New creative bar wedding party identification support custom own replacement pendant led lanyard
Product Detail
Product Tags
| | |
| --- | --- |
| product name | Led Lanyard |
| Size | 50*2cm |
| Material | Nylon |
| Battery | 2*CR2032 |
| working time | 48H |
| weight | 0.03kg |
| color | Red, White, Blue, Green, Pink, Yellow |
| logo customization | Support |
| Application place | Bar, Wedding, Party, |
| Control method | Flashing fast - flashing slowly - always on - off |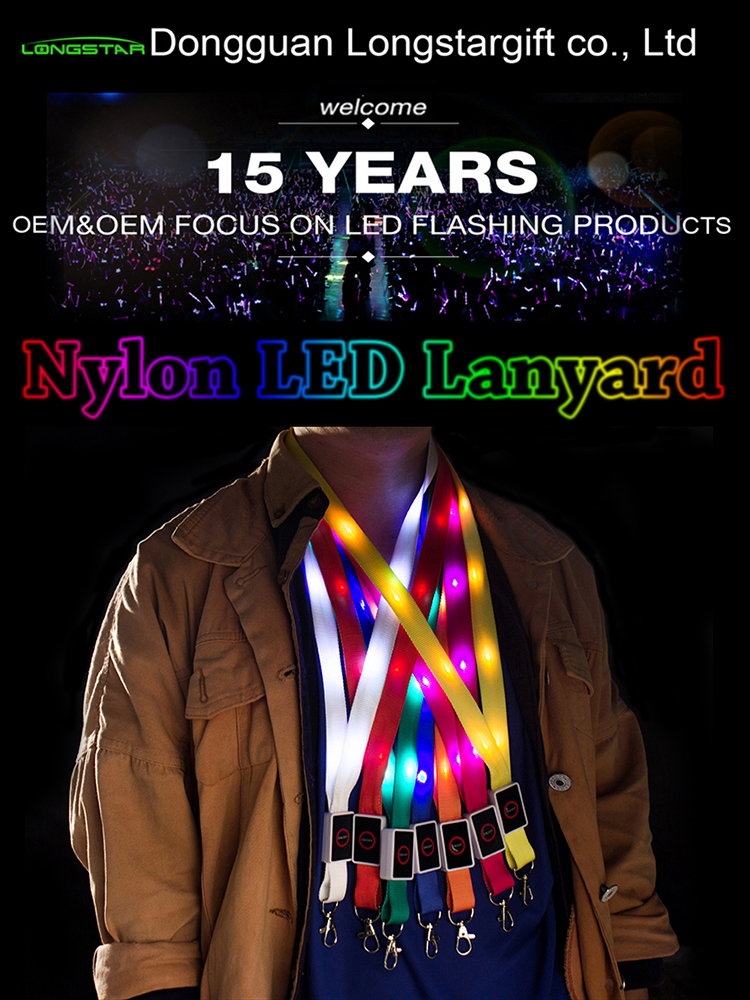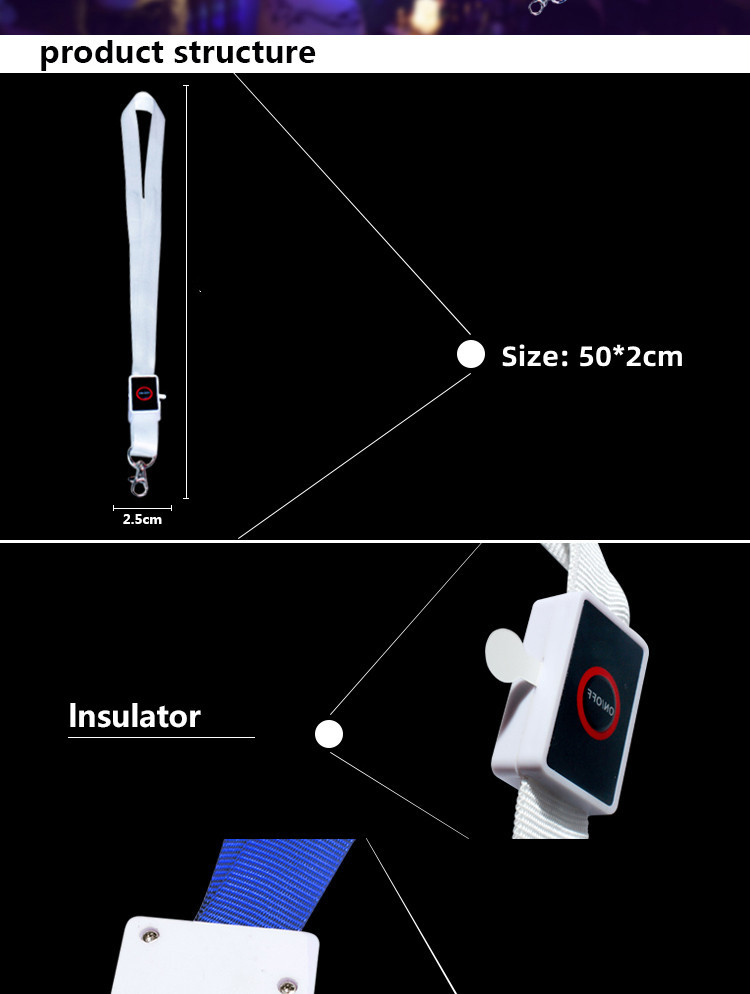 This product is equipped with 2*CR2032 type batteries and built-in LED light bar. The control switch has the function of glowing and flashing. Mainly used for private gatherings, meetings, gatherings and other places that require identification. Equipped with hooks, you can change the pendant at will, and we can customize the pendant.
Custom Logo:The entire nylon lanyard area can be printed with LOGO, such as company name, pattern, numbers and other symbols.
The main material is nylon, which has the characteristics of waterproof, durable, not easy to damage, and the cost is relatively low.
There are two printing processes for this product: 1. Silk screen: printing on the surface of nylon webbing. Clear, natural, color without omission. 2. Pad printing: printed at the switch of the product, the printing cost is low, and the logo effect is good.
The production and manufacturing process of the product has a strict management mode to ensure that each product has at least four inspection procedures to ensure that each product is in line with CE and ROHS certification.
2*CR 2032 type batteries, small size and large capacity, can guarantee the lighting time and ensure the perfect performance of the product in the event
The luminous time is more than 48 hours, which fully guarantees the normal use in parties, conferences and other environments.
We can provide one or several samples to you free of charge to ensure that you have a more comprehensive understanding of this product.
Each product is packaged in OPP bags separately, which can avoid scratches caused by collisions between products. We use cartons to package products individually, and each package can hold 300 products. The packaging cartons are made of three-layer corrugated cartons, which are sturdy and durable to avoid product damage. long-distance collision. cause damage.
Box gauge size: 30 * 29 * 32cm, single product weight: 0.03kg, whole box weight: 9kg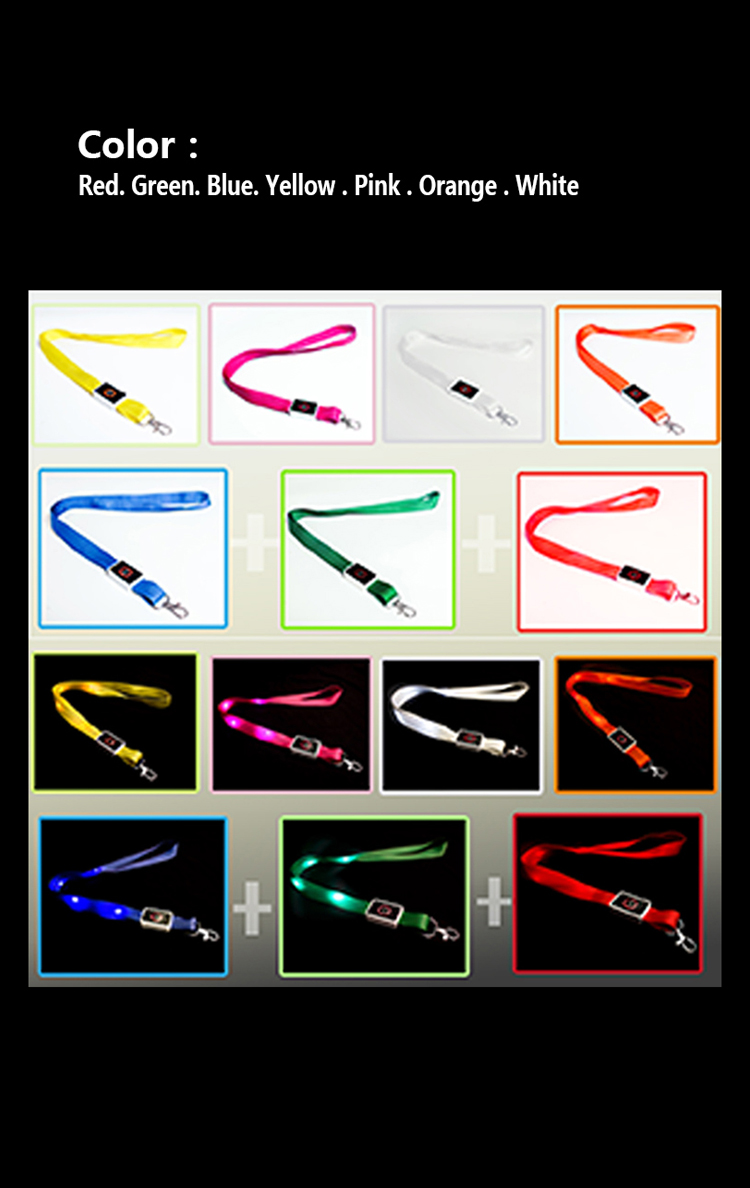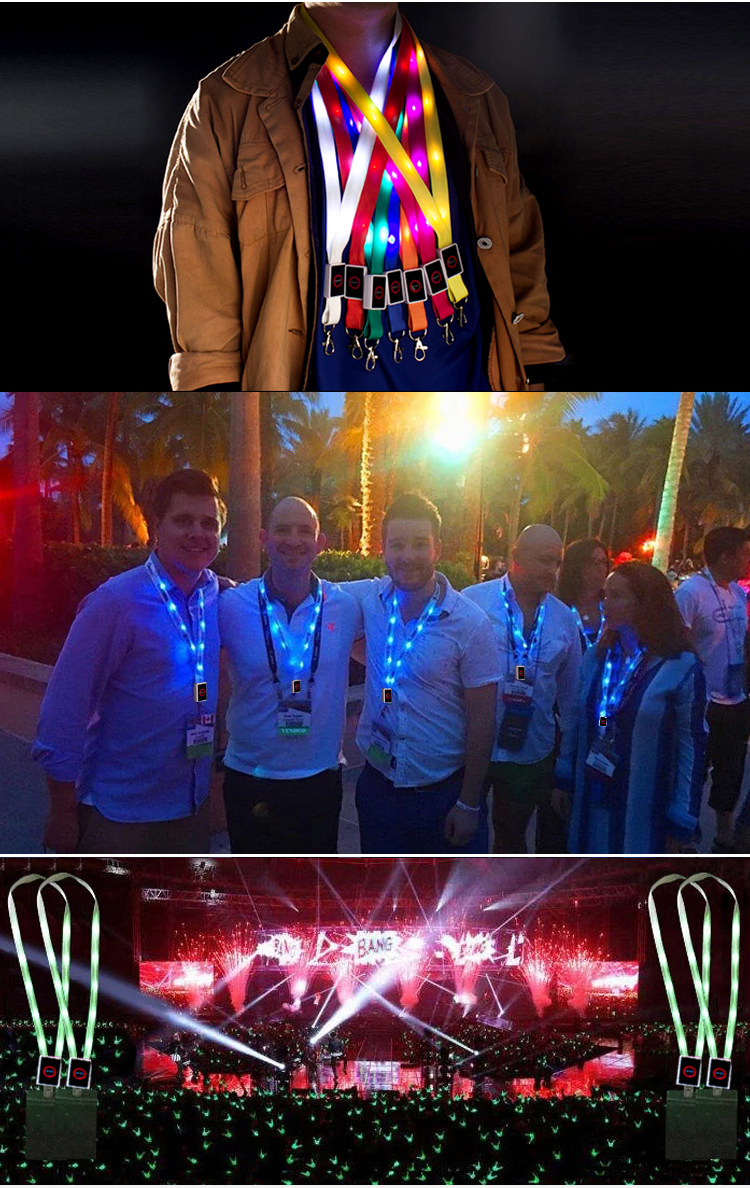 This is feedback from Miss Emma from Stockholm, Sweden. Miss Emma works in a large cultural and entertainment media company in Stockholm. The company's main business is to cooperate with performers to plan, organize and implement global star concerts, including international first-line superstars and emerging stars who have just entered the industry. And Miss Emma is responsible for the planning of the scene atmosphere.
In April of this year, she released an RFQ on the Alibaba International Station platform, asking for all the tools to enhance the atmosphere of the concert. As long as it is a high-quality idea, she will study it carefully. If the product is suitable, she will consider placing an order. There are 20 creative products that I hope to get. When we received this invitation at the beginning of the period, we didn't pay much attention to it, because what Miss Emma needed was too general, so the response we got a few days before the release was not very strong.
The quotation we sent to Miss Emma is to try your luck and provide product pictures, videos, prices, delivery cycle and other information according to Miss Emma's request. And our recommended product is this led lanyard.
Unexpectedly, after a few days, Miss Emma really sent us a separate inquiry, and learned more about the material of this product, the process printing logo and other details. This time let's cheer up.
After several times of communication, Miss Emma finally decided to include this product in her purchasing scope, and the quantity is 5,000. The picture next to it is the final version. Miss Emma appreciated the patience and professionalism of our staff.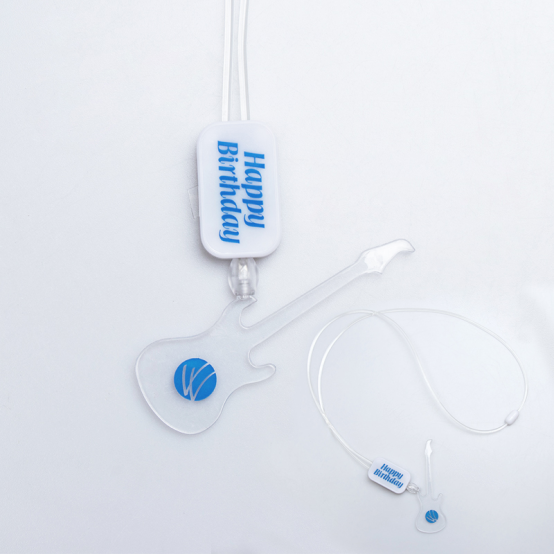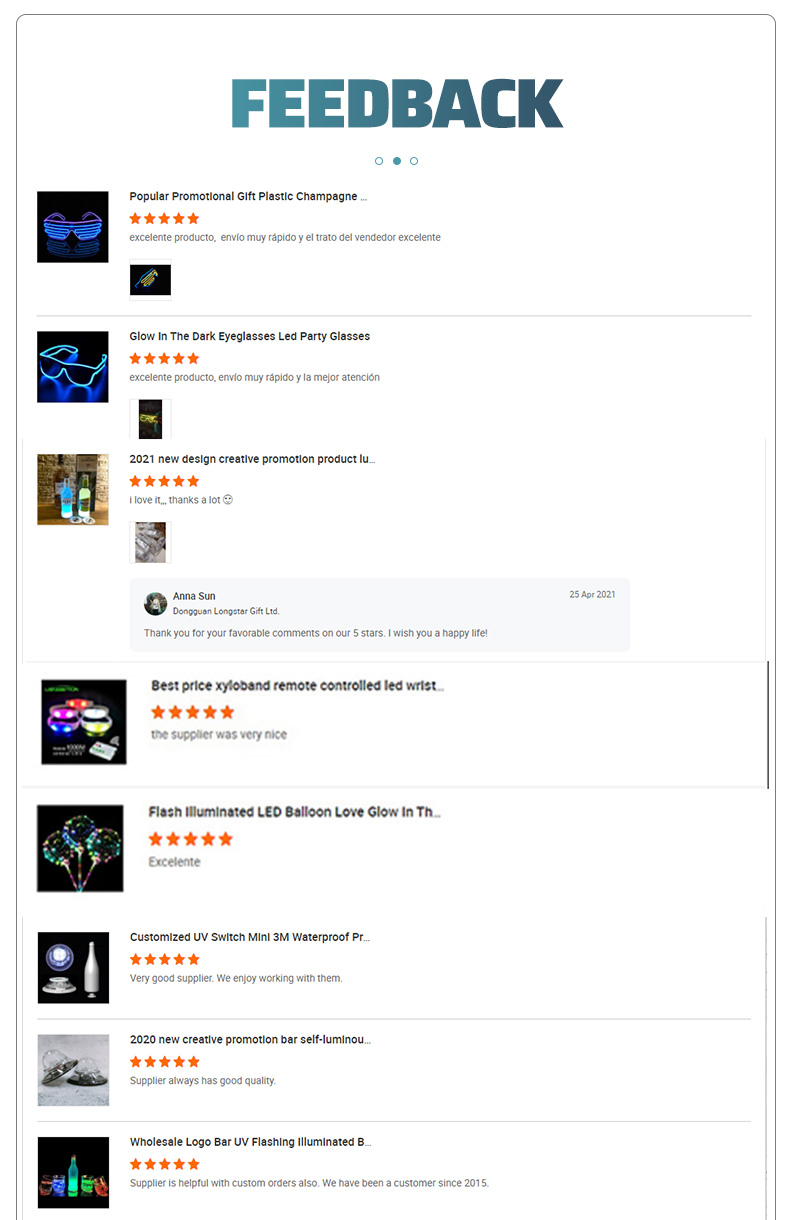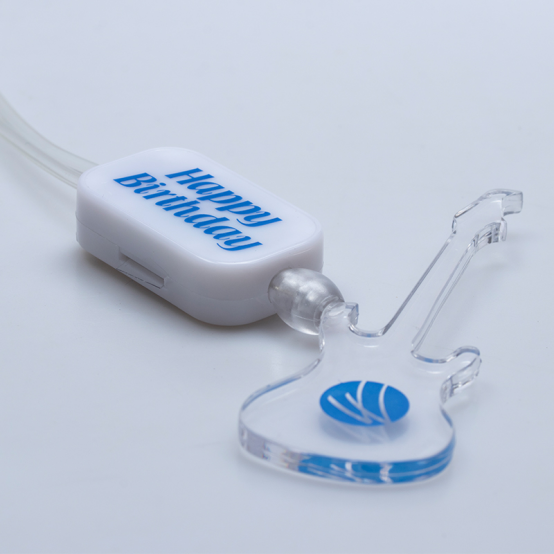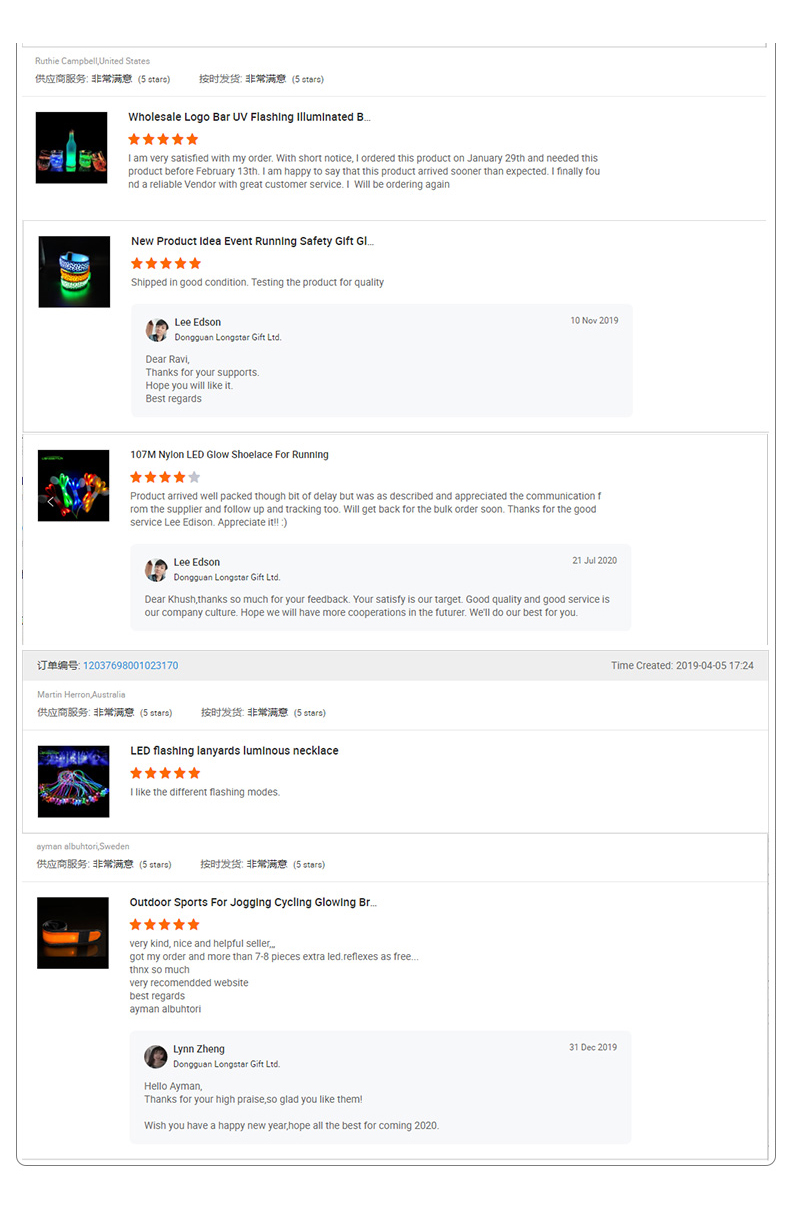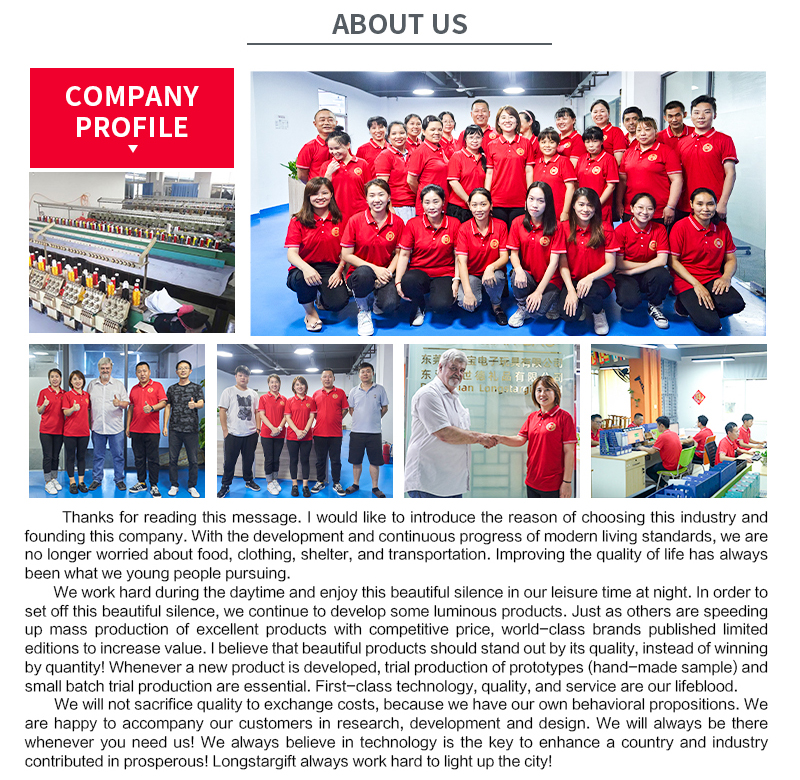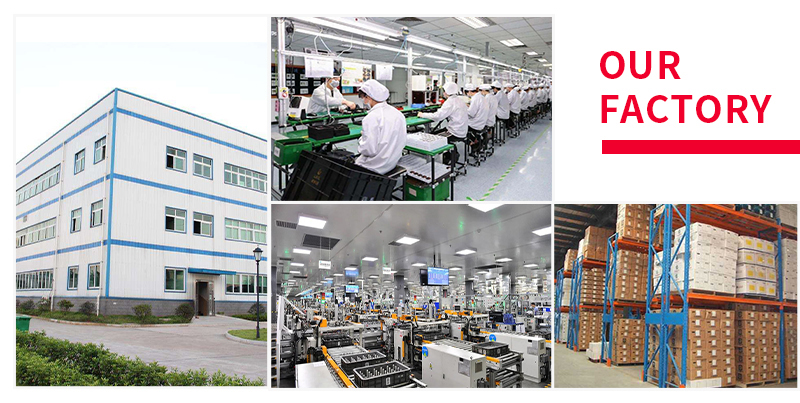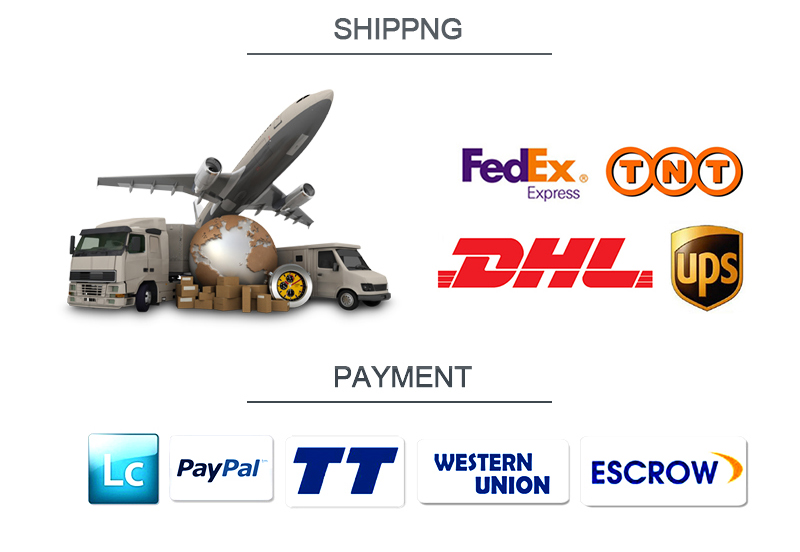 ---
Previous:
Class 7 Waterproof Pet Collar Adjustable Size Night Lighting USB Charging Mode Repeated Use LED Collar
Next:
New L145mmW20mm size adjustable support logo custom wedding bar concert atmosphere bracelet led xyloband
---
Write your message here and send it to us