Party scene atmosphere active props 800 meters wireless remote control support logo custom led bracelet
Product Detail
Product Tags
Product Name
LED Remote Control Bracelet
Product Size
7*2.5*7cm
logo size
3*1.5cm
Remote control range:
800M-1000M
Material
Silica Gel
Color
White
Logo print
Acceptable
Battery
2*CR2032
product weight
0.04kg
Continuous working time
60H
Application places
Bars、Wedding、 Party、
Concert
Sample
Free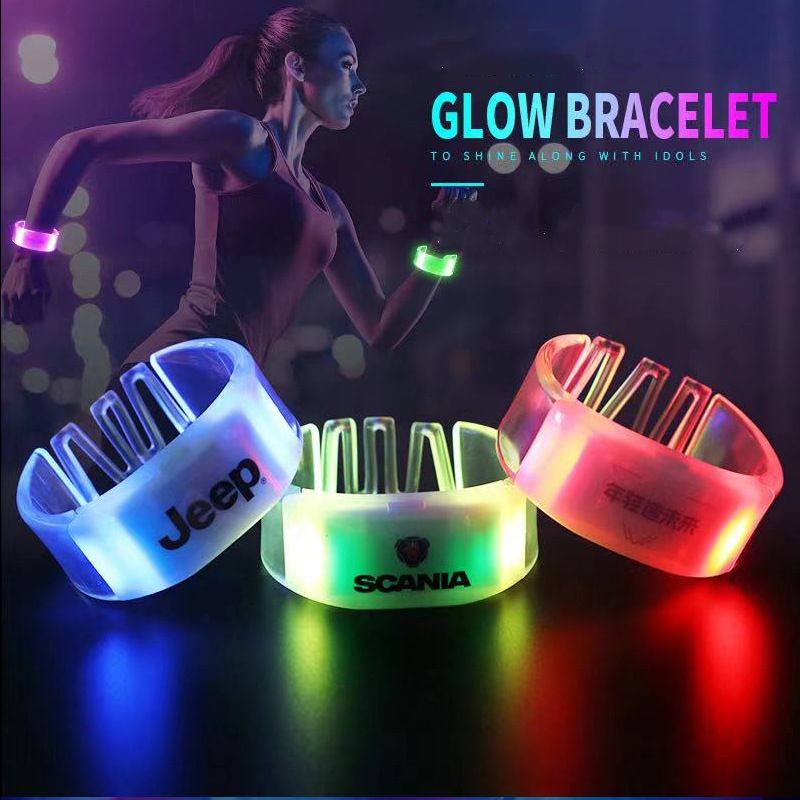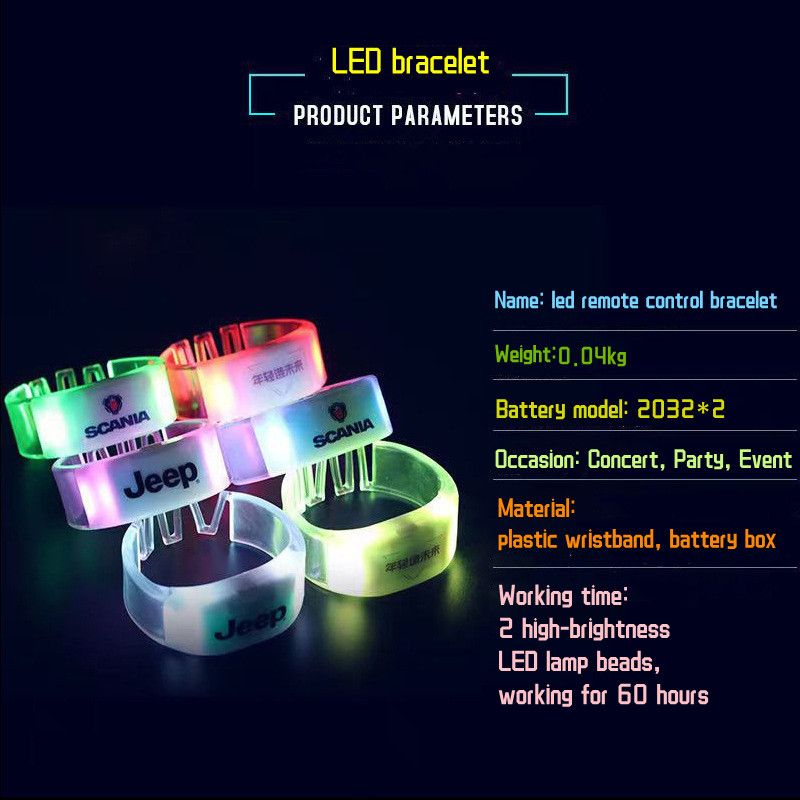 This is a uniquely designed LED remote control bracelet with a wide range of applications and powerful functions. By operating the remote control, you can make the bracelet show different colors, and you can also change the lighting and flashing modes, such as 30+ modes such as constant light and interval light. Up to 8 zones can be assigned, and each zone can be individually lit and flashed according to the control. This product is required for any event.
Whether it is indoor or outdoor, party or major festival, home or bar, as long as you want to make the atmosphere of the scene different, then you must have it, from beginning to end, you can immerse everyone in the flickering of music and lights .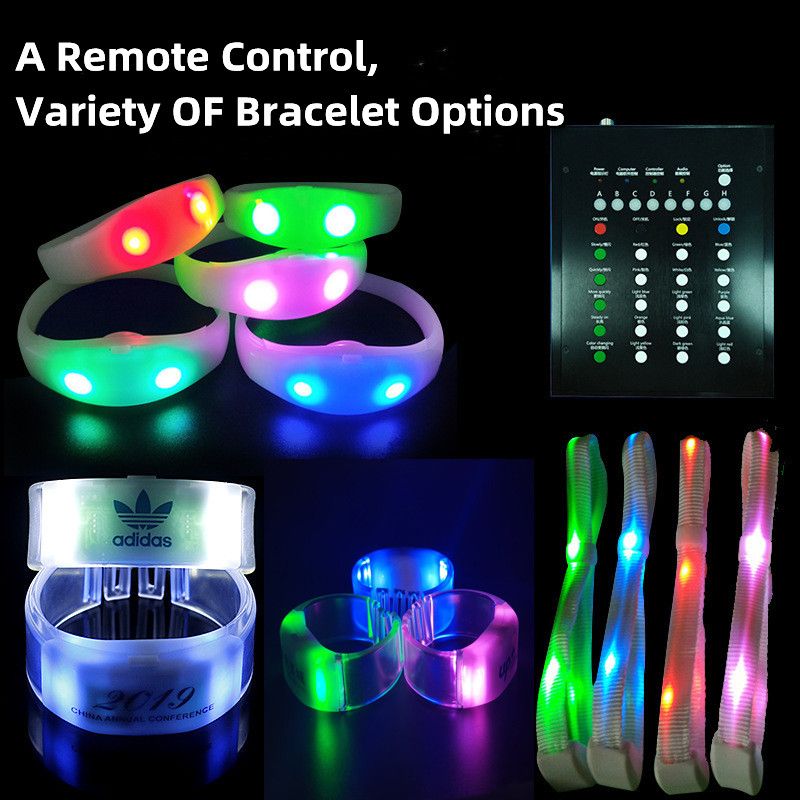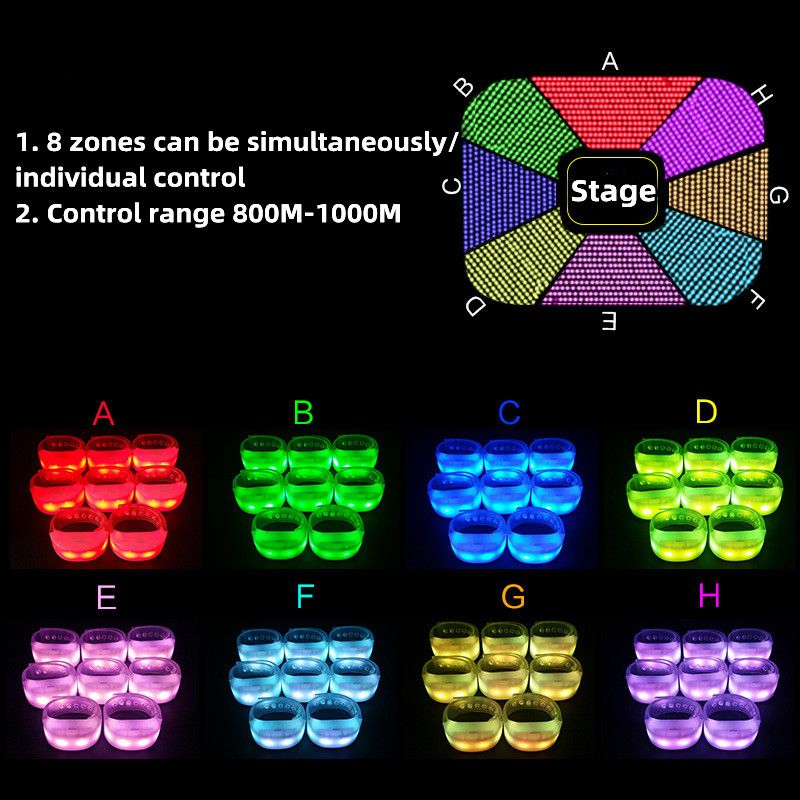 The entire trademark is made of ABS+silicone material, which is environmentally friendly, lightweight and durable.
It adopts a very mature printing process - pad printing. The biggest feature of this printing technology is low price, good printing effect, and very stable. It can reflect your logo to the greatest extent without any omission
The production and manufacturing process of products has a strict management mode to ensure that each product complies with CE and ROHS certification
Using 2*CR2032 type batteries, it has the characteristics of large capacity, small size and low cost. To ensure the continuous power supply of the product, it is very convenient to replace the battery and can be reused.
Once the battery is installed, the battery life can be up to 48 hours (the battery can be replaced to continue to use), which fully guarantees the excellent performance at the party. From beginning to end, let everyone immerse in the light of LED.
After the production of the product is completed, we will send it out as soon as possible to ensure that you can use it as soon as possible. Usually within 5-15 days, if you have special requirements, you can explain to us in time when you place an order.
We can provide you with one or more samples free of charge to ensure you have a more comprehensive understanding of this product. The premise is that it is best to buy a remote control, otherwise it will not work properly.
For convenience, we put the bracelets in the same area in a plastic bag and mark them in English. The packaging carton is made of three-layer corrugated cardboard, which is strong and durable to avoid damage to the product due to long-term use.
Box gauge size: 30 * 29 * 32cm, single product weight: 0.04kg,FCL quantity:230, whole box weight: 9.2kg
This is feedback from Ms Jessica from Australia.
Ms. Jessica runs a major entertainment media company in Melbourne, Australia. It is said that there are hundreds of artists who have signed contracts. In May of this year, Ms. Jessica sent us an inquiry. The content of the inquiry is very simple. She said she was very interested in our remote control bracelet. I need to ask a few questions: 1. Can the LOGO be customized? 2. What is the actual remote control range? 3. Can it be reused? 4. Delivery time.
We judged that this is a large customer through background checks, so we answered the above questions very rigorously and seriously, and made the greatest concessions in the quotation.
The results were indeed pretty much what we expected. The guest program requires 300,000 pieces, but we need to send them to different locations at different times. It turned out that they were preparing for the singer's global gig.
After nearly a month of repeated communication, the sample was finally finalized. We deliver the samples to the customers with the fastest speed, and the customers are very satisfied. Immediate payment to arrange production. Now half of the shipment has been shipped, Miss Jessica recognized our work attitude very much and took a few photos of us on the spot.
Hope their global show goes well and good luck at the box office.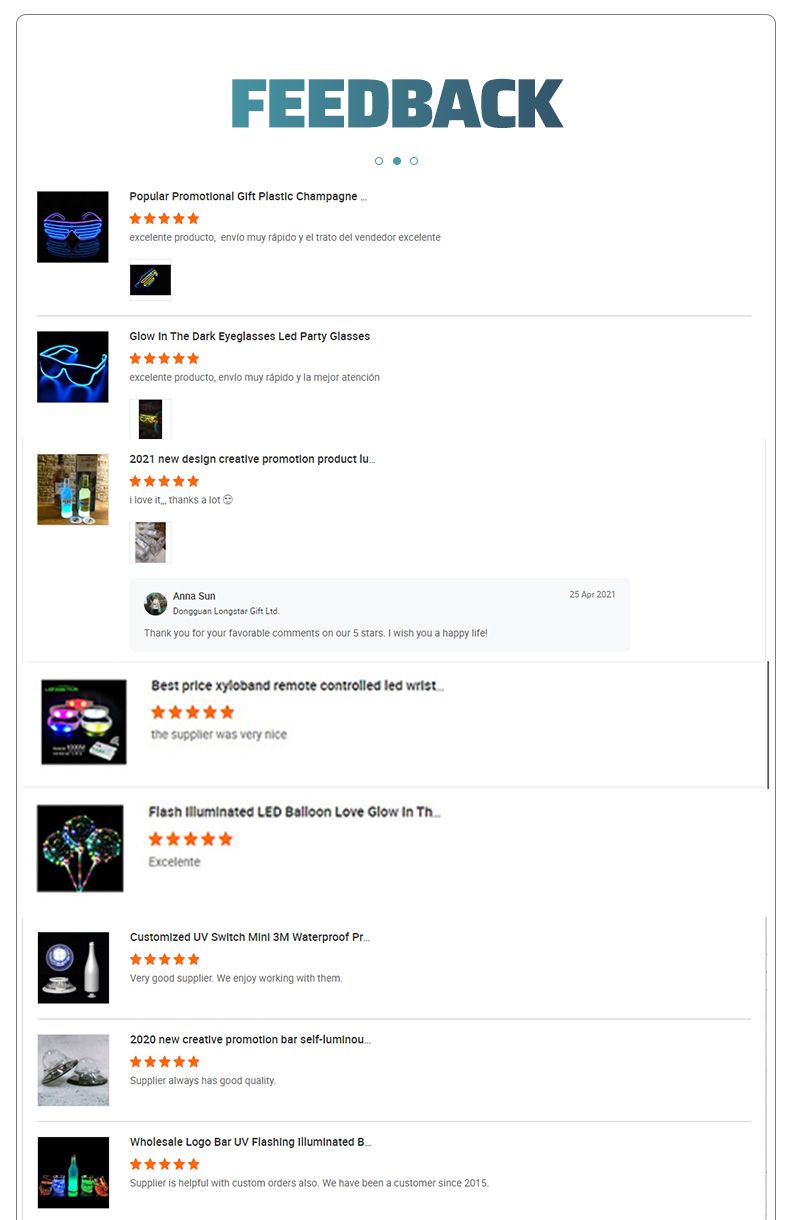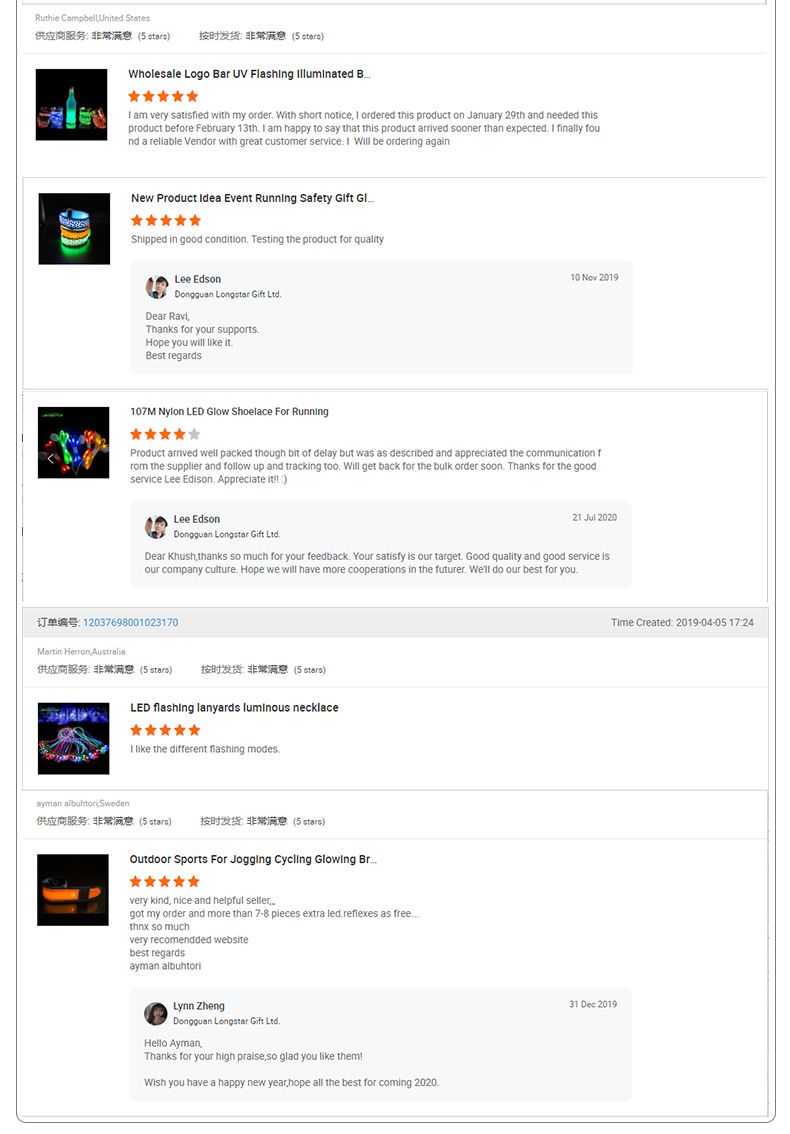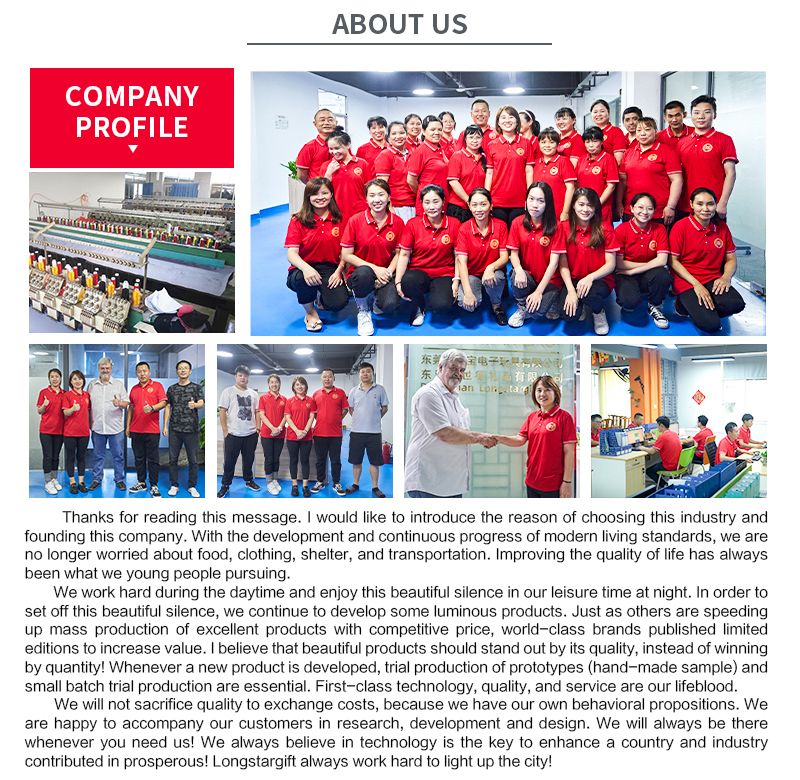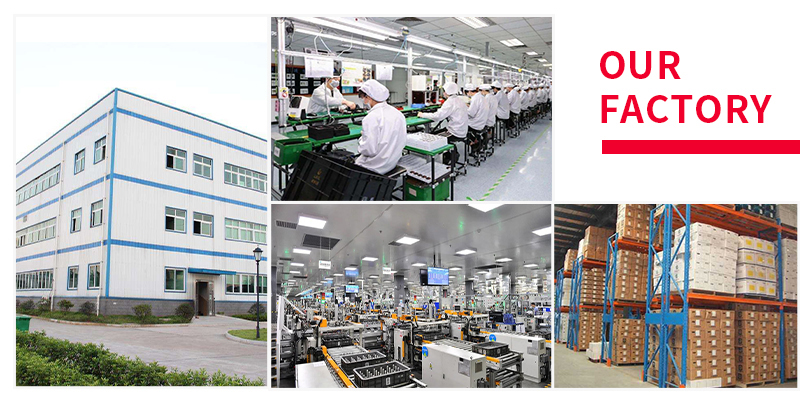 ---
Previous:
Factory direct sales new bar nightclub special atmosphere bottle light support custom led sticker
---
Write your message here and send it to us